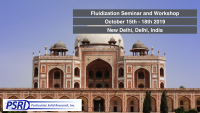 Sorry, This class is now full!
Applications are invited for attendance at PSRI's Fluidization Seminar, to be given at the Aloft New Delhi Aerocity. The seminar consists of lectures interspersed with videos and workshops on the following topics:
Basic Fluidization Hydrodynamics
Gas Distributor Design and Operation
Circulating Fluidized Beds and High-Velocity Systems
Cyclone Design and OperationDilute and Dense-Phase Conveying
Particle Entrainment
Erosion and Particle Attrition
Standpipes and Solids Flow Systems
And More!
You can download the agenda here.
The fee for the 4-day course is:
$2,000USD for PSRI member company participants
$2,500 USD for non-member company participants
*Book by September 1st 2019 and receive a $250 Discount.
Contact us if you are a Student before registering!
Credit card transactions on this website are processed with Elavon, a USA payment gateway. You may need to call your credit card issuer and pre-authorize the transaction or it may get declined.
Our fluidization seminar and workshop is now digital. We will no longer be providing paper seminar manuals. During the seminar, we will provide you with a tablet to follow along with. After the seminar, you will have access to the seminar material on the PSRI website (www.psri.org) under your membership login. If you have any questions, please do not hesitate to contact us.
Hotel Information
We have a negotiated rate with the Aloft New Delhi Aerocity Hotel.
Single Occupancy - INR 7000 Plus Tax a Night.
Double Occupancy - INR 7300 Plus Tax a Night.
Accommodation in well-appointed rooms with WIFI
Complimentary 2 bottles of 500ml water
Tea/Coffee maker in the room
Access to Gym and Swimming pool facilities
Wi-Fi in all the guest rooms.
Buffet Breakfast at the designated venue
Check in time is 1500
Check out time is 1200 (noon)
Early check in/late check-out will only be given subject to availability and would be charged extra
Request for upgrades and extra beds are subject to availability and would be charged extra
Request for King/twin bedded rooms will be accommodated as per availability
To book your hotel room,. please use this secure link.