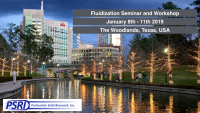 Applications are invited for attendance at PSRI's Fluidization Seminar, to be given at the The Woodlands Waterway Marriott Hotel & Convention Center. The seminar consists of lectures interspersed with videos and workshops on the following topics:
Basic Fluidization Hydrodynamics
Gas Distributor Design and Operation
Circulating Fluidized Beds and High-Velocity Systems
Cyclone Design and OperationDilute and Dense-Phase Conveying
Particle Entrainment
Erosion and Particle Attrition
Standpipes and Solids Flow Systems
And More!
The fee for the 4-day course is:
$1,800 USD for PSRI member company participants
$2,300 USD for non-member company participants
Contact us if you are a Student before registering!
Credit card transactions on this website are processed with PayTrace, a USA payment gateway. You may need to call your credit card issuer and pre-authorize the transaction or it may get declined.
Our fluidization seminar and workshop is now digital. We will no longer be providing paper seminar manuals. During the seminar, we will provide you with a tablet to follow along with. After the seminar, you will have access to the seminar material on the PSRI website (www.psri.org) under your membership login. If you have any questions, please do not hesitate to contact us.
Hotel Information
PSRI Fluidization Seminar 2019

Special group rate for 189.00 USD per night.
Please use this Secure Link to book your hotel directly
If you have any questions, Please call the PSRI Offices at 1-773-523-7227, Option 7.